We are celebrating International Women's Day 2023 by shining a light on some of our incredible female staff. Meet Vicky Winslow – Public Services tutor at Merrist Wood College
Hi Vicky. Tell us a bit about yourself 
I am one of the Uniformed Protective/Public Services tutors at Merrist Wood College. I have been in this role since November 2022 when I made the move from being the Surrey Deputy Operations Manager for Admissions. I work full time, am a proud military wife to a Royal Marine, and mum of a wonderful two-year-old boy. Being a military wife offers its own challenges as my husband works away Monday to Friday. He is currently serving Brunei where he has been since the beginning of the year. 
I have had a squiggly lined career. Following a Management degree, I worked in various job roles in the private sector. In my mid-20s I decided to return to uni and study a Post-Graduate Diploma in Musical Theatre at Guildford School of Acting. This led me into the wonderful world of theatre which I absolutely loved. When I wasn't performing, I worked for a local temping agency. One assignment saw me working at Guildford College for a three week assignment. However, Guildford College hooked me. I loved their ethos, what they stood for, the other staff, and the education of like-minded people of all ages, backgrounds, cultures, and abilities. I felt I'd found where I belonged.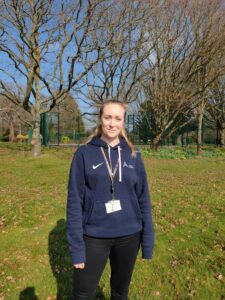 During the last 14 years I have worked in several different departments and job roles at Guildford College, Merrist Wood College and Farnham College (who are all part of Activate Learning)  in various capacities. I put myself forward to study my teaching qualifications several years ago for self-development. 
Throughout my life I have always enjoyed developing my own knowledge, skills and abilities, but I have been passionate about motivating and encouraging others to achieve their own goals in life. My enjoyment of outdoor fitness led to me becoming a Military Fitness Instructor working across Surrey. I am a qualified Personal Trainer and have specialised in pre- and post-natal fitness.
I am all about outdoor living and the health (mental and physical) benefits that it promotes. I love encouraging my students to develop their own skills and enjoy seeing them focus on their future.  I have enjoyed expeditions to Everest, touring Australia, New Zealand and Europe, hill running in Wales, Dorset and Scotland and developing cold weather skills in Canada and Iceland. May obstacle course races, 10k, 10-mile, half and full marathon events in and out of mud! I hope to pass on my passion for fitness, exploration, and personal development on to my son as he grows up. 
In the past I have supported the Public Services students on their expeditions and trips for their course, which I thoroughly enjoyed. When the role of tutor became available, I saw it as an opportunity to develop, support and nurture young people to find their passion in life and go fun throttle into a fantastic public services career, passing on my own expertise.  
What is your proudest achievement whilst working at Activate Learning?  
I have been proud of my own progression through the college from a temp to management and then diversifying into teaching. I have pushed myself hard. I have always gone above and beyond for the College whilst pushing myself to achieve personal fitness and educational goals. Achieving my teaching qualifications, involvement in promoting remembrance, performing at the star awards, taking part and running CPD sessions, enrolment, open events and all that the College encompasses – all whilst being a working mum and seeing my husband through countless tours overseas and all that encompasses.
While working full time during the at college I have also run several military bootcamps across Surrey and Hampshire in the evenings and weekends. I am not work shy so, keeping going, working around family, friends and my own interests is something I feel proud that I have been able to do.  
How have Activate Learning supported you in your individual circumstances at work? How have they supported you when transitioning to a new role?   
As a military wife, tours of duty are part of the course. The college has previously been very supportive and flexible when mid-tour R&R and post op tour leave (POTL) is available. 
I was lucky that my new department were patient in waiting for me to finish enrolment in my previous role and cover staffing issues before commencing my new role. 
Why do you think it's important to celebrate International Women's Day?  
All women should be celebrated, whether they are working or not. We are all amazing in everything we do! I have never really thought about celebrating myself! I just get on with what needs to be done.  
Which women inspire you the most in your career?  
My mum has been a real inspiration to me. At one point she was working five jobs at the same time, so she certainly presented a strong work ethic in me. 
All military women who take time away from home, family, children and loved ones are truly inspiring. I find working full time so hard missing my little boy develop, six months on tour would be impossible for me. 
What advice would you give to your younger self?  
Stop worrying about what everyone else thinks or does and focus on your own goals and dreams. Don't be a spectator to life, push yourself to achieve more.  
What is the most important message you would give to young women thinking about careers?  
You can do anything if you set your mind to it. Don't let anyone tell you something can't be done, or if they do, actively go out there and prove them wrong. 
How can we encourage more women to pursue leadership roles?  
There are so many outstanding female role models out there in significant leadership roles. Highlighting their achievements and pathway to success will hopefully inspire the next generation to pursue their career and personal goals. 
Why do you think diversity is important in the workplace?   
It is important to celebrate and nurture diversity in every workplace. Having a diverse workforce promotes further diversity. We need to break the stigma and show the world that anyone can do anything they set their minds to. As teachers, we are here to facilitate goals, aspirations and dreams and break down barriers.  
I would love to think I am a role model to all students on my course and beyond.