Merrist Wood College are delighted to announce that we are launching a project to become classified an official Hedgehog Friendly Campus!
As part of this initiative, supported by the British Hedgehog Preservation Society, students and staff will be working towards a Bronze Award by undertaking a range of activities to raise awareness, protect and educate others about hedgehog conservation on campus – and with over 400 acres, our campus undoubtedly provides a home for quite a few of our prickly little friends!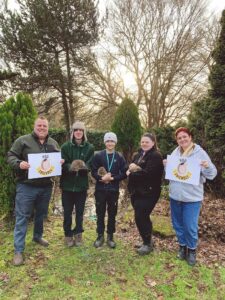 Did you know that hedgehogs have been around for over 15 million years?! Their numbers have declined by up to 50% in the UK since the year 2000 and they are now listed as vulnerable to extinction in Britain. This is mainly due to habitat loss, development, roads and garden hazards – all human-made threats.
Hedgehogs are great for the ecosystem as they control insect populations and spread plant seeds, so it is vitally important that we need to look after them to maintain the biodiversity of our native wild species!
On-campus activities will include habitat creation and maintenance, running awareness campaigns, conducting surveys, and fundraising – to name just a few!
We look forward to reporting on our progress over the next few months as we work our way towards our Bronze Award in becoming a Hedgehog Friendly Campus!