Get Ready For a Baaa-rilliant Day Out! 
After a rather soggy couple of months, Spring is finally in the air. And, for Merrist Wood College, that means it's time to celebrate the cutest of the year, lambing season!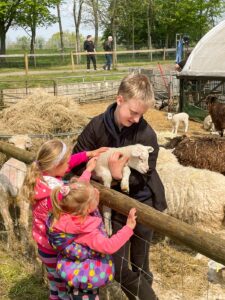 Merrist Wood College is excited to announce the return of its highly anticipated annual Spring event, Fleecy Frolics, which takes place on April 22 and 23. A family and community fun day out, that's perfect for all ages! 
Down at the college's lambing unit, visitors will have the chance to meet and greet the new-born lambs (and goats) and learn more about some of the other resident rare breed animals.  
Or if you fancy getting up close and personal with something a bit more exotic, various animal-handling experiences will be running in the Animal Management Centre throughout the day.  
Lots of activities for all the family!
But that's not all! Fleecy Frolics will be packed with family-friendly activities that are sure to keep everyone entertained. From heavy horse-drawn carriage rides, face painting, pony rides and kids' tree climbing experiences (courtesy of our very own Arboriculture professionals) to sheep shearing demonstrations and countryside craft stalls, there's sure to be something for everyone to enjoy.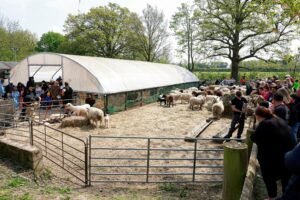 For those with green fingers, the college's Horticulture team will be selling a range of plants, professionally grown in their large and well stocked nurseries. 
Also on offer will be a great selection of artisan food and drink stalls to recharge those batteries, including delicious BBQs a-plenty, catering for all palettes, as well as alcoholic and non-alcoholic bars serving liquid refreshment.  
The Saturday event will also welcome Motivation by Music, Guildford's fantastic contemporary gospel choir, who will lift the spirits with their performances. A real treat not to be missed! 
Tickets for sale online
Please note that pre-booking tickets online is an absolute must. There will be no tickets sold at the entrance, so be sure to secure your entrance ticket prior to arriving on site to avoid disappointment at the entrance gate.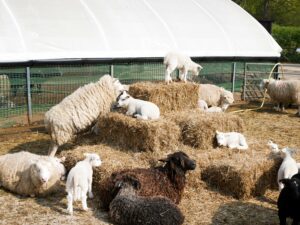 Neil Shoulder, Head of Campus – Student Experience at Merrist Wood College, said: "We're thrilled to welcome families and the community to our annual Fleecy Frolics weekend event.  
"It's a fantastic opportunity to celebrate the joys of Spring and learn about life at Merrist Wood College while enjoying a fun-filled day out!" 
Go here for more information and to purchase tickets.   
Ewe won't want to miss it!