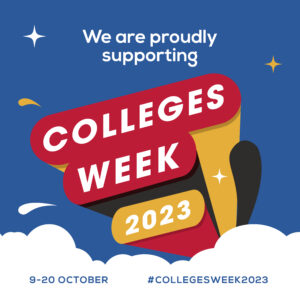 It's not long till Colleges Week 2023! This year, Colleges Week will be slightly different, with the celebrations lasting a fortnight. We will be shouting about how we work alongside our employer partners and local communities to really make a difference. 
Colleges Week 2023 will be celebrated from Monday 9 to Friday 20 October. The first week will have a local focus, with a daily theme.  
The first week will start on Monday 9 October. It will focus on how colleges support local skills, labour markets and life chances.  
Each day will focus on a key sector which colleges support, these themed days include:  
The second week will start on Monday 16 October and will have a national focus. It will illustrate the role colleges play in supporting the economy and will call for greater investment.  
 It will also tie in with the following national events:  
Wednesday 18 October – Colleges Week Parliamentary Reception

 

Thursday 19 October – Student of the Year 2023 finalists announced

 

Friday 20 October – #ShowYourSkills competition winners announced

 
Throughout Colleges Week 2023, we will have a host of activities available on campus. Keep an eye on your local colleges' social media accounts for more information. 
How can I get involved during Colleges Week 2023? 
Have a great story about your college experience to share? Want to shout about how much you #LoveOurColleges? Be sure to get involved during #CollegesWeek2023 via Activate Learning's social media channels.