It's Colleges Week 2023 and today, we're celebrating Health and Social Care at Activate Learning. 
We offer a variety of Health and Social Care programmes at numerous campuses, from Further Education, Access to Higher Education, Apprenticeships and short courses. 
The social care sector provides a range of services to support both children and adults. Possible careers include social work, social-care work, care management, occupational therapy, or other related professions. 
Clinical roles include working in local GP surgeries, pharmacies, or hospitals, in a wide range of possible professions that include nursing, midwifery, mental health, and healthcare science. 
The projects and assignments that our students complete are all based on realistic workplace situations and activities, learning in state-of-the-art industry-standard facilities. Each college has a hospital ward, a home care flat, and an immersive suite that can replicate a range of working environments. 
This pathway has meaningful industrial placements in local settings with our network of partners, including our NHS partners. 
As of 2020, if you go on to a degree-level nursing, midwifery, or allied health course at university, you are guaranteed a £5,000 per year bursary to help with living costs. This does not need to be paid back!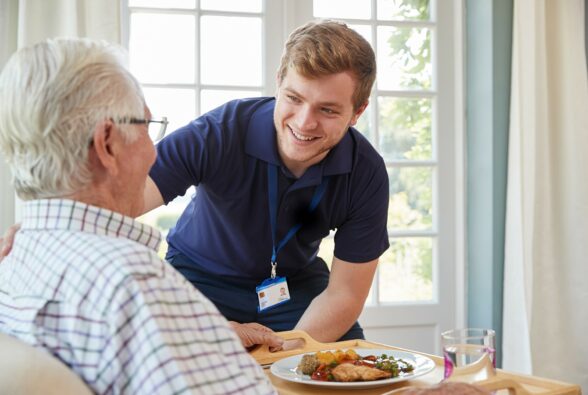 Student Case Study 
Gabby studied the Health and Social Care Level 3 Extended Diploma at Activate Learning's Banbury and Bicester College. 
Gabby first heard about the qualification while working at a nursery and realised that obtaining her diploma would open up a wider range of employment opportunities once she'd graduated. 
"I learned I would be studying a wide range of different areas in health and social care and could therefore get a wide choice of jobs and courses after graduating, like going into midwifery, childcare or nursing. The course would open a lot of doors to different career pathways that I could go down. It didn't limit me to any one career." 
Gabby said: "The best thing about going [there] was being able to put our practical skills to use during the lessons. We spent about half our time on placements, getting the practice that made all our theory make sense; we weren't just reading out of textbooks about how to do things, we were actually doing it. You can't always learn those skills and the caring side of it from a textbook.  You need that human interaction to learn those skills first-hand." 
"I would say to anyone who wants to do a Health and Social Care course at Banbury and Bicester College that it is definitely worth doing. If it's a career that you really want to get into, then it's better to go to college and do the practical placements they offer. You don't just have to do the Level 3, there's the Level 2 as well, which you can study for a year and get a bit of a taster and see what it's really like. There's always someone there to talk to—who's not holding your hand but making sure that you actually still enjoy it. You'll learn so much doing it and really grow your skill sets." 
Mark Walsh, T Level Health tutor at City of Oxford College says:  
The T Level Health programme attracts learners who are academically and practically capable, motivated and who demonstrate both compassion and courage in making healthcare their career choice.
Taking a demanding academic course and putting yourself in a busy, often stressful care setting like a care home or hospital ward to work with people who are sick, frail and vulnerable isn't top of every teenagers list of ways to spend their time.  
T Level Health learners do this for two years because they are committed to making a difference and using their skills and abilities to help others in their local communities. Many of our learners want to train to make a contribution to local care services throughout their T Level Health course.  
Having opportunities to do this is the best part of their course. 25 learners completed the T Level Health course in summer 2023. Some are now working in local NHS services, others have gone on to universities across the UK to qualify as adult nurses, paediatric nurses, chiropractors, occupational therapists and mental health workers.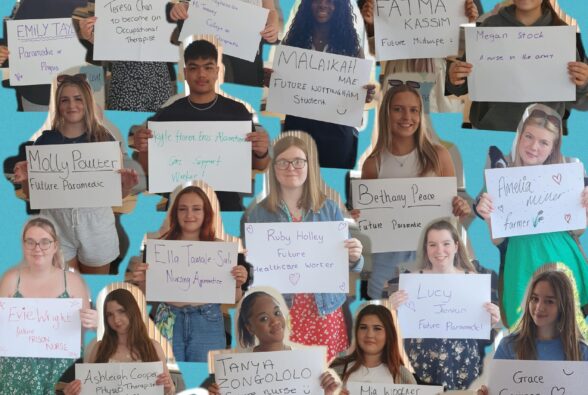 Further Education Health and Social Care programmes  
Our full-time Further Education programmes are offered in: 
Surrey: 
Oxfordshire: 
Berkshire: 
Access to Higher Education Health programmes   
Access to HE courses have been specifically designed for adult learners aged 19 or over who do not currently have the relevant entry requirements or qualifications to go to university. There is no upper age limit, so it doesn't matter if you've been out of education for a period of time or wish to return to education to change career. 
An Access to HE qualification is your stepping-stone to the degree or career you've dreamed of. It's never too late to learn! 
We offer a range of Access to HE programmes:  
Berkshire 
Surrey 
Oxfordshire 
Apprenticeships
Go here to see apprenticeship opportunities that we offer in the Health and Social Care sector: Apprenticeships 
Part time Adult Education 
We also offer a range of part time adult education courses to support your career in the Health and Care sector – go here for more details