It's Colleges Week 2023 and today, we're celebrating construction at Activate Learning.
We offer a variety of construction programmes at numerous campuses, from Further Education to Higher Education, to Apprenticeships and short courses.
Sherrie is an alumna learner and studied the Level 3 Plumbing Diploma programme at Reading College. 
When attending a college Open Event, Sherrie visited the plumbing workshop and was so impressed with the facilities that she "felt in her element" straight away. She says that one of her favourite parts of the plumbing programme has been having hands-on experience of using and assembling different materials in the workshop.
Sherrie and her classmates have also enjoyed learning opportunities away from the college, with a visit to a local business park to see a new building being constructed a highlight for her.
And Sherrie did her work experience with a female plumber in Reading, where she had to think on her feet and deal with real-life situations and clients.
Sherrie has been the only female student in her department, which she admits she found a bit daunting at first but jokes that she is "one of the lads now." Sherrie says: "I've found that I've made quite a few friends here, and the facilities here are so much better than anywhere else. I've been treated more like an adult here."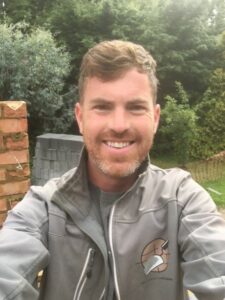 Mark Tempest, construction teacher at Reading College and University Centre, said: "I went to college to get my Level 2 Diploma in Trowel Occupations 20 years ago, while working for a small building company. They provided me with the training to complete my NVQ and became a qualified bricklayer, eventually leading to me owning a small business of my own.
"My time at college provided me with the knowledge, skills and attributes I needed to kickstart my career in construction. Further education provides learners with the opportunity to gain skills, but also guides them on their own journey into the construction industry.
"The construction industry is constantly evolving and provides many exciting career routes for our learners. The construction industry has provided me with a great career, which now supports my passion for delivering knowledge, skills and behaviours to future bricklayers within my classes.
"There has never been a more exciting time to join the construction industry, with a huge demand for housebuilding and shortage of bricklayers."
Learners on these programmes can enjoy construction programmes from Level 1 to university level, with courses focused on expanding your construction knowledge and specialisms including carpentry and joinery, bricklaying, trowel trades, plumbing, electrical instillation and wood occupations.
Further Education construction programmes
Our full-time Further Education programmes are offered in:
Oxfordshire
Berkshire
Surrey
Higher Education construction programmes online
You may choose to study an Higher Education construction programme online with Activate Learning.  
These Higher National Certificate programmes are completed online over two years and include:  
Construction apprenticeships
Our Construction apprenticeships with Activate Apprenticeships.  
These programmes include:  
Carpentry and Joinery – Site Carpenter Level 2

 

Plumbing and Domestic Heating Technician Level 3

 
Interested in a construction apprenticeship? Look at our current apprenticeship vacancies online. 
 Alternatively, if you have an employer you would like to do an apprenticeship with, please contact Activate Apprenticeships.  
Construction Skills and CSCS Green Card short course
This two-week course is a fantastic opportunity to complete the City & Guilds Level 1 Award in Construction Skills, enabling you to gain your Green Card for construction and to work in the construction industry. 
It is available on-site throughout the year at: 
If you would like to know more or find out if you are eligible to take this course for free, please contact via the Employability Skills Centre enquiry form. 
You can also email us at: employmentsupport@activatelearning.ac.uk. 
Construction
 stories
Learn more about what our construction students and tutors have been up to this year across Activate Learning:
Construction case studies
Discover what our construction students and tutors have to say about studying at Activate Learning:
Want to learn more about life at college or our#CollegesWeek2023 celebrations? Come say hi via Activate Learning's social media channels!