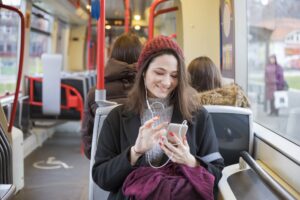 A bursary fund to support students with travel costs to and from college.
Travel Bursary Terms and Conditions 2021:2022 
To be eligible, students must live three miles or more from the nearest Activate Learning campus offering the course you are joining.  
If you apply by Friday 6 August 2021, students will have their pass available at the start of term. During our peak application period during August and September it can take up to four weeks to process your application and confirm if you have been awarded a bursary, so you will be responsible for any travel costs until your financial support is in place.  
The support provided will be by the most cost - effective method, which will either be a travel pass or travel expenses paid into your bank account. 
If we do not have a purchasing agreement with your travel company, you will be awarded travel expenses. 
Travel Passes
The cost of your travel will not be backdated; you are responsible for the cost of travel until your pass arrives.   
We will purchase a travel pass on your behalf for the journey you detailed on your financial support application form or the most cost-effective method of travel.  
We purchase travel passes from the following travel companies:  
If you have been awarded a Stagecoach or rail pass you will have to insert a photograph in the pass for the pass to be valid for travel. 
Passes are available for collection usually within three weeks of the date of this letter: you will be sent a text message as soon as your pass is ready for collection.  
Passes may be collected from the Advice Centre of your college. If your course is not based at an Activate Learning campus, your travel pass will be posted to your home address

Where possible we will purchase an annual academic year pass, if this is not available, we will buy a pass each term for your travel

 

We recommend you take a photocopy of your travel pass; this is so that you will have the pass number if you lose the pass and need a replacement

If the pass requires photo ID it is your responsibility to provide the photograph, these passes are not valid for travel unless presented with the photo ID card

We recommend you store the pass in a plastic wallet to avoid damaging the magnetic strip on the back

Funds will not be back dated, and you are responsible for the cost of travel until your pass arrives

 

Any passes not collected within two weeks will be returned to the travel company and there may be a fee for reissuing the pass
Travel Expenses 
You may be awarded travel expenses if:  
it is the most cost-effective method of support

 

public transport is not available for your journey 

 

you have evidenced the need to travel by car due to your childcare arrangements, expenses for fuel are awarded at 15p per mile for the return journey and paid by direct transfer in arrears.

 

we do not have a purchasing agreement with the travel company 

 

if you need support towards your contribution for Special Education Needs (SEN) travel provide by the Council 

 
If you would like the bursary to contribute towards the cost of SEN transport provided by the County Council, you should let us know the estimated amount you will be required to pay the Council when you apply for the bursary. 
SEN transport invoices need to be provided by the end 27 November 2021. 
We are not able to support the cost of taxis to college unless the taxi is provided by the Local Council.  
Schedule when payments for travel expenses due in bank accounts.